I needed a Flickr-like annotated image viewer for this website. I found Fotonotes™, so I sat down and made this nice plugin.

From the original Fotonotes™ library I bundled with the plugin only the client-side annotations script along with its stylesheet. I also removed from the original source the code and styles that deal with client-side annotations editing. There may be some left-overs, feel free to do the cleanup yourself and contribute the source :)

I'll be happy if you let me know where the plugin is installed. Just add yourself in the dokuwiki's plugin page.
{{aimg> image.png?320x240 |Image title}}

@10,30,60,60|Annotation title
the content is optional, as well as the title and author name.
coordinates format is:
top,left,width,height.
~author

... wash, rinse, repeat ...  

{{<aimg}}
The image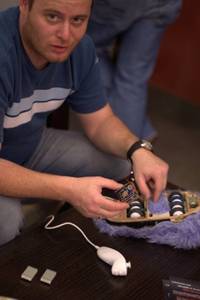 Pay attention that the title is actually a link
Led Matrix

See all projects
is generated by
{{aimg> me.jpg?200x300 |Itay Donenhirsch}}

@10,30,60,60|[[/personal|Itay Donenhirsch]]
Pay attention that the 
title is actually a link
~itay

@245,100,40,40| A Wii Nunchuck
See [[projects/purplegingi|The Purple Cat]]!
~itay

@265,22,40,30| Led Matrix
[[projects/ledmatrix|{{ projects/ledmatrix/12.jpg?w=100 }}]]
See all [[/projects]]
~itay

{{<aimg}}
projects/aimg.txt · Last modified: 2010/11/07 16:38 by itay · []